"suddenly i see"
In the midst of a relatively slow shooting weekend, I decided to sit on my butt at the theaters (instead of in front of the computer) and watch some eagerly anticipated movies. I saw two very different movies this weekend: Made of Honor with the girls and Ironman with the bf (big surprise, right? =)).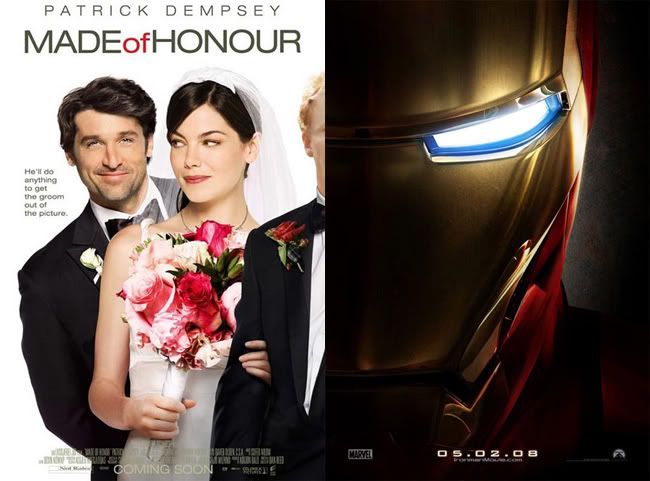 I must say I really enjoyed watching both movies and although I am no Ebert & Roper, here are my personal reviews of them:
Made of Honor – I've been waiting for the quintessential chick flick – you know the Meg Ryan-Sleepless in Seattle-I found my soul mate kinda thing. It seems like these movies have been replaced by goofy "romantic comedies" or off the wall love stories. Made of Honor does not exactly fill the missing void, but it is a cute, fun movie that I'm glad I watched. As a Grey's Anatomy fan, I think Patrick Dempsey is hot and has definitely come a long way from The Pizza Boy. He is also one man who can cross his legs while sitting and still look sexy. Also I don't know why but I love movies set in New York. I think it's because I always wanted to live there and it makes me feel like I kind of do. Anyway, back to the movie! So yes it was predictable, but that is expected. The movie does make you feel somewhat good – don't we all want a guy best friend who we fall in love with??? However, it doesn't compare with the O.G. My Best Friend's Wedding. A good chick flick to me is one that you can watch over and over again. Here are some of my faves:
– My Best Friend's Wedding
– The Notebook
– Hitch
– Pretty Woman
– Some Kind of Wonderful
I'm sure I'm missing quite a few. I stil have yet to watch the really old school love stories like Casablanca and The Way We Were. So what are your favorite chick flicks???
Ironman – So I wasn't really excited to see this movie – I do like quintessential guy and Marvel comic movies, but it was hard for me to imagine Robert Downey, Jr. as a superhero. But, the bf wanted to see it and I had heard good reviews about it all week so we went to watch it on Saturday night. Well, I was pleasantly surprised and entertained by this movie. Mr. Robert Downey Jr. (who by the way is at the Laker game I'm watching right now on TV! Go Lakers! =)) did a good job as did Ms. Gwyneth Paltrow even though she didn't work the red hair very well. The movie was fun, funny and I would definitely watch the sequel cause you know there's going to be one!
Other movies I'm looking forward to this summer:
– Batman: The Dark Knight
– Sex in the City!
– The Love Guru (Justin Timberlake is in it!!!=))
Stay tuned for more blog posts!!! I have an engagement session, bridal shower, wedding, headshots and some more personal antedotes to post!!